Art En Plein Air
Join visiting artist Ed Kane and explore art in the great outdoors!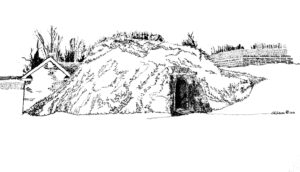 Art en plein air is about leaving the four walls of your studio (or home!) behind and experiencing painting and drawing in the landscape. The practice goes back for centuries but was truly made into an art form by the French Impressionists.
Fort Mifflin, after its reconstruction and through its use into the twentieth century, was a site of military activity and visiting artists. Seth Eastman was commander of Fort Mifflin in 1865 and while there made several sketches of the Fort. These sketches ultimately informed his painting of Fort Mifflin, one of 17 artworks depicting important fortifications he completed as part of a commission in 1870 for the House Committee on Military Affairs.
Even prior to the 19th century, many artists enjoyed creating art in the great outdoors. Join visiting professional artist Ed Kane who will demonstrate outdoor sketching with quill and brush in the 18th century style. With scenes of the river, wildlife and historic buildings, Fort Mifflin is an ideal location to try your hand at creating your own art en plein air! We will have basic supplies available (or BYO) and invite you to chat with Ed for suggestions (or just watch a master at work) and follow your own vision to sketch a scene of the Fort. Take your work home with you, or leave it for us to incorporate into a mini-exhibit afterward!
Ed uses goose quills and handmade brushes along with homemade inks and ground pigments made into watercolor paints as his choice of mediums. He also sketches using charcoal sticks and graphite. Visit his Etsy shop, his online studio, or purchase one of his pieces available for sale the day of the event.
Back to Events
Purchase Your Tickets Today
Similar Events