Cannonball Tavern
Party in 18th century Philadelphia!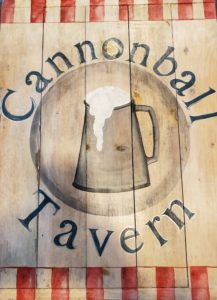 Experience the ambiance of a colonial-era tavern in Philadelphia when Fort Mifflin transforms the Soldier's Barracks into the Cannonball Tavern, complete with authentic beverages and hearty tavern fare. Enjoy 18th century tavern games, the warm glow of a cozy fire, lively toasting, music and the company of civilians and soldiers of the era. The outdoor fire pit and cannon demonstrations complete the scene. Period attire welcome but not required.
The tavern bar features beverages crafted in the authentic 18th century manner from period recipes as well as limited contemporary choices. Your paid admission includes two food and beverage tokens, then pay as you go the rest of the night. Profits from this event support educational programming. ** Adults only. Be prepared to show ID at the event entrance. No outside food or drink permitted.
SPECIAL OPPORTUNITY! Extend your experience and spend the night in the Soldier's Barracks or Casemates, or camp out on the Parade Ground. This opportunity valid only with purchase of a Tavern ticket.
Back to Events
Purchase Your Tickets Today
Similar Events