An Evening with Jefferson and Lafayette
Presented with the National Park Service & American Historical Theatre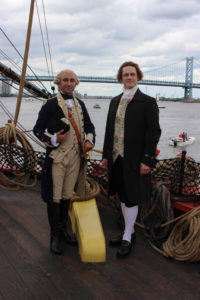 Join us for a special evening with Thomas Jefferson (Steve Edenbo) and the Marquis de Lafayette (Benjamin Goldman) as they discuss the importance of the French Alliance with the newly formed United States of America during the War for Independence.
This program commemorates the Washington-Rochambeau Revolutionary Route, which Fort Mifflin was a part of as the Continental Army made their way to the climatic siege at Yorktown. The program will be approximately 1 hour, with a meet and greet reception following.
Presented by Fort Mifflin, the National Park Service and American Historical Theatre.
Cost:
Fort Mifflin Members – FREE (please call 215-685-4167 for reservation)
Adults – $20.00
Children 12 and under, Seniors and Veterans – $10.00
Back to Events
Purchase Your Tickets Today
Similar Events