Private Yankee Doodle Weekend
September 2nd & 3rd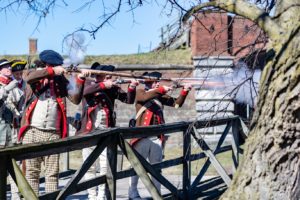 Private Joseph Plumb Martin served at Fort Mifflin during the 1777 siege and later wrote about his experience in a memoir published  under the title Private Yankee Doodle. Explore daily life in the garrison with the 4th CT Regiment and try your hand at some of the tasks of improving the Fort's defenses including the construction of a scale model of a chevaux de frise, underwater obstacles that were a feat of 18th century military engineering! See original examples in the exhibit space and then observe construction under the direction of the 4th CT Regiment.
Meet Joseph Plumb Martin himself (as interpreted by our own Mike Kalichak!) as he reflects on his adventures in his country's service as he prepares to write his memoir, years after the war. Special program at 11 am and 1 pm.
Guided tours, musket and camp life demonstrations.
Back to Events
Purchase Your Tickets Today
Similar Events