Rhythm on the River: Hot Jazz and History on Mud Island
With our good friend Drew Nugent!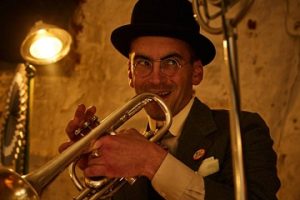 We surely missed hosting our annual Mud Island Speakeasy this year, but here's a chance to get a taste of the 1920's (and before and beyond!) as we explore the history of jazz music with our good friend Drew Nugent! Drew and his trio will regale us with tunes and history from 1 pm till 3 pm right on our parade ground! The program will cover the evolution of jazz from its early beginnings through the 1930's with an emphasis on the roaring 20's. Feeling a little fancy? Come as you might have been during this time. Bring a lawn chair or blanket if you like.
Enjoy a picnic in our shaded riverfront picnic area before the program begins. Drew's program runs from 1 to 3.
A note about COVID protocols: This is an outdoor event. Social distancing is required – we will help you by organizing "rings" around the performance area with some bench seating available. Rest rooms are small (so access is very limited – and you may need to wait your turn. Plan in advance!) and we expect everyone to wear a mask when indoors and also when interacting with anyone outside your own "quarantine buddy" group including the staff at admission or elsewhere on site. Help us help you stay safe!
Back to Events
Purchase Your Tickets Today
Similar Events