World War II – Explore the Eastern Front!
May 22 (10 till 4) and May 23 (10 till 3)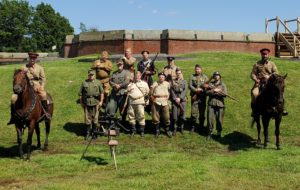 Experience World War II history along the Eastern Front!  Living history activities with soldiers and civilians, guided tours and special "Tour of the Eastern Front" visiting all army camps! Explore the politics in Europe, the cuisine behind the lines and stories from the home front. Enjoy a special folk dance performance by the Kaliedoscope Dance Troupe on Saturday.
Please read our Disclaimer for our reenactment events.
Back to Events
Purchase Your Tickets Today
Similar Events