Black POWDER Friday
At The Fort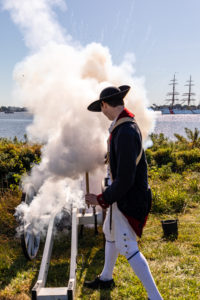 Skip the mall and have a BLAST at Fort Mifflin the day after Thanksgiving! Spend the day exploring one of the only intact battlefields of the American Revolution and enjoy musket and cannon demonstrations!  No long lines, no grumpy shoppers, no fighting for a parking space. Give thanks for the soldiers that fought here, providing General Washington time to establish winter quarters in Valley Forge in 1777.
OUTDOOR programs on the history, science and manufacture of gun powder. Musket and cannon demonstrations – ALL AT A SAFE SOCIAL DISTANCE!
In compliance with recent City-wide restrictions all staff and visitors are required to wear a mask. Rest room access is limited to emergencies only. 
Back to Events
Purchase Your Tickets Today
Similar Events