Upcoming Events
@THE FORT
Fort Mifflin hosts many exciting, educational and paranormal events throughout the year. View our calendar below to get your tickets to the next amazing event.
Advance Tickets for most events are NOW ON SALE via TicketLeap (Click HERE). Tickets can also be purchased at the gate upon arrival (cash preferred).
Want to make YOUR event revolutionary?  Details on renting the site for your special event HERE.
Bombardment Run BOMBARDMENT RUN POSTPONED - NEW DATE COMING SOON!
Join the "troops" at Fort Mifflin for our annual 5K FUN(d) raiser! This flat and fast out-and-back run will get started with a blast from the cannon right on the Fort's historic parade ground.
View Details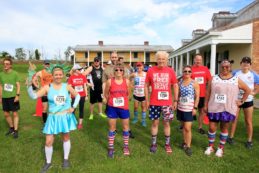 With our good friend Drew Nugent!
Explore the evolution of jazz music from the early 20th century through the 1930's with our good friend Drew Nugent.
View Details
with the 4th CT Regiment
Experience life as a Continental Soldier during this weekend of activities.
View Details
A Haunted Fort Mifflin Event
Experience Fort Mifflin after dark as our most popular paranormal event returns! Experienced and novice paranormal investigators will enjoy special after-hours access to one of the most haunted sites in America!
View Details
October 9, 16, 17, 23, 30 and 31!
No decorations. No hype. Just, you, a few candles, and REAL Ghosts! Experience Fort Mifflin after hours on our popular candlelight walking tours through the site.
View Details