Sleep with the Ghosts
A Haunted Fort Mifflin Event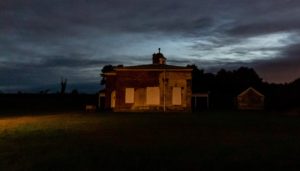 Spend the night if you dare! Actual sleep is optional during our annual overnight paranormal investigation, where you get to explore the buildings, myths and legends behind the Fort's permanent residents. Sleeping quarters are dormitory style, or BYO tent.
Participants have access to heated and unheated buildings, including some areas not open to the general visiting public, plus outdoor areas. Share your evidence and learn about the history of the Fort with the team from PARAX Radio while enjoying light refreshments around the fire pit.
The event is best for experienced investigators (18 and older) – novices are encouraged to enjoy our Open Investigation Evening.
Begins at 7:00 pm on Saturday October 21st and ends at 8:00 am on Sunday October 22nd.

Back to Events
Purchase Your Tickets Today
Similar Events